Title: Just A Phase
Pairing: Sakuraiba + Jun
Rating: PG-13 - NC-17
Summary: Aiba tries to crack Jun's shell with the help of Sho [just a general summary]
Disclaimer: Not real, Johnny owns Arashi not me.
Warning: Un-betaed.
A/N: Somewhat of a response to a request by
animesempaigirl
Matsujun looked out the window of the van he and his band mates rode when they needed to go to work. He stared at the blurry trees and relaxed to the soft humming of the wheels on the road. He sat alone while the
couples
sat behind him. Ohno and Nino where in the last seats in the back while Sho and Aiba sat behind him. Last time he turned around the Ohmiya couple were snuggled up together sleeping while Sho was showing something to Aiba on his laptop. It never used to bother him that the other four would pair up together, in fact it helped his image of being DoS and cold. But lately he has been longing for what they had; a significant other.
He heard Aiba giggling behind him and a 'shh' from Sho. Jun looked down at his hands as he tried not to listen to what exactly was going on behind him. He knew from the sighing it was something sexual. He put his headphones on and turned the volume up until he couldn't hear his own thoughts.
---------------------
They were eating some of the prepared food for them in their dressing room. Sho was reading a newspaper as he ate. Ohno, surprisingly able to block the sounds of Nino's DS, finished his food and was resting his head on Nino's lap. Aiba was stuffing his face with food watching Sho read. Jun was sitting on the soft chair pretending he was fidgeting with his phone but he was actually looking at
them
. He hoped he didn't come off spiteful or jealous, he was simply reminded of his loneliness whenever he looked at his friends. Even if Ohno and Nino weren't really a couple, the fact that they were able to do what they do hurt.
It wasn't as if he can just find a girl to be with to cure him and he couldn't exactly approach a man for his situation. He just wanted to throw himself in work to get his mind off of things. He looked up and his eyes made contact with Aiba's. Immediately he looked away and left the room. Aiba's brows knitted in confusion as he followed Jun's movement out the room. "Sho-chan."
"Mmm?" Sho responded still reading.
"Does Matsujun seem different to you?"
Sho turned around to where he remembered the youngest member sat, but realized he was gone. He looked back at Aiba, his face in confusion. "Where is he?"
"He left a few minutes ago."
"Why?"
"I don't know, that's why I was asking you," Aiba giggled. Sho's eye twitched before he went back to reading. Aiba got up and looked around for Jun. He had noticed that he was constantly withdrawing himself from the others. Granted Jun wasn't really one to hang all over someone, but he used to talk to them at least. He walked down the hall and saw Jun standing by the window that overlooked some of the city. He stopped a few feet from him just looking at his back.
"I know you're there," Jun said not facing him.
"What are you doing out here?"
Jun just shook his head letting out a sigh. He could feel Aiba's eyes on him which was beginning to make him uncomfortable. "What?" his voice raising a little bit turning around to face the other man this time. Aiba flinched before walking closer to him. Jun was getting angry now and the man's silence and actions was making things worse. Though his anger washed away when Aiba gave him a light hug.
"What ever is bothering you…it's okay," Aiba said against Jun's shirt. He let go and walked back to the room. Jun stared wide-eyed at the disappearing back unsure what to make of what happened. When he returned to the room, he kept his eyes downcast. He knew that both Sho and Aiba were looking at him, but he didn't look up. Not until their performance.
--------------
Jun walked into his apartment, sleepy from a full day of work. He hit the play button on his answering machine as he took off his clothes. Most were from friends wanting to hang out, some where from family members to say they watched the performance; blah blah. He stopped the machine even though it wasn't completely done.
He went to the bathroom and took a warm bath resting his head against the wall. He was bothered by what Aiba said to him. Was he really projecting his problem that easily or was Aiba able to pick it up himself? After thinking about it for far too long Jun sucked his teeth in annoyance. He didn't need him sticking his nose in his business. He already knew that Aiba told Sho, so now he would have him bothering him with questions as well. He finished his bath and dried up while going back to his room.
Jun laid on his side clutching his pillow wondering why was he feeling so lonely now. Two months ago it just sprung up on him when he saw Sho kiss Aiba backstage before a recording of Himitsu no Arashi-chan. Their relationship wasn't a secret, but it totally hit him when he saw that. Soon enough he caught himself watching them or Ohno and Nino. Sometimes he wondered what it would be like if he was able to pair up with someone. Jun quickly stopped thinking about that and rolled onto his stomach closing his eyes tightly. It took an hour for him to finally go to sleep.
Current Mood: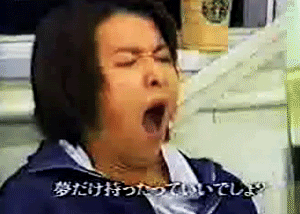 sleepy